File Versions
easydb can manage multiple versions per file. For example, these can be sections of a file or retouched, improved versions. These are not the preview versions. These are automatically created and managed by easydb.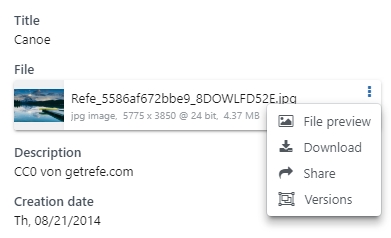 Display versions
From the detail view you can view the versions created for this dataset by clicking on the Options button. The editor provides tools for creating versions.
Create versions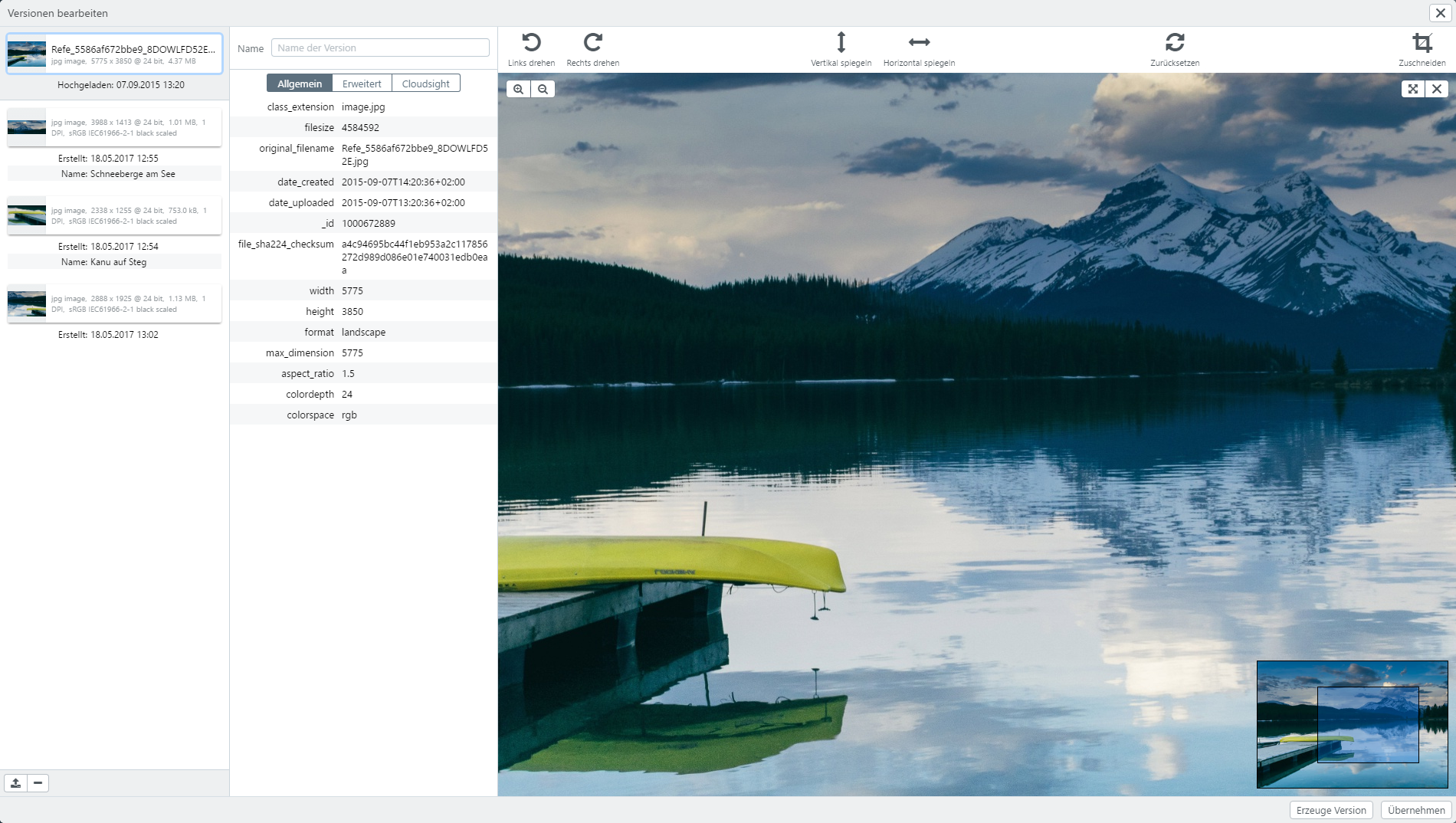 Use to upload new versions.
Use - to remove the selected version from the list.
Use the mouse to change the order of the versions by drag & drop. The top version is the preferred version. This version is used in the detail view and in the file preview editor.
You can give each version its own name. The name is only displayed here.
Confirm your changes with Take over to save them for the record.
Asset Tools
| Button | Function | Explanation |
| --- | --- | --- |
| | Turn left (each 90°) | Turn the image to the left. There's no stepless rotation planned at the moment. |
| | Turn to the right (each 90°) | Turning the image to the right. There's no stepless rotation planned at the moment. |
| | mirror vertical | mirror the image on the vertical axis. |
| | Mirror horizontally | Mirror the image on the horizontal axis. |
| | Reset | Resets the image back to its original state. |
| | Crop | Start the Crop tool. With Create Version you can create a new version of the file with your cut. It'll appear at the bottom of the list. |
Images
| Tool | Explanation |
| --- | --- |
| Zoom | Starting Zoom View. |
| Metadata | Display unchanged metadata from the file at the time of uploading. |
Office & PDF
| Tool | Explanation |
| --- | --- |
| View | Starts the overview view for the PDF. |
| Metadata | Display unchanged metadata from the file at the time of uploading. |
Video
| Tool | Explanation |
| --- | --- |
| Video | Starts the video mode to play the file. |
| Metadata | Display unchanged metadata from the file at the time of uploading. |
Audio
| Tool | Explanation |
| --- | --- |
| Audio | Starts the audio mode to play the file. |
| Metadata | Display unchanged metadata from the file at the time of uploading. |